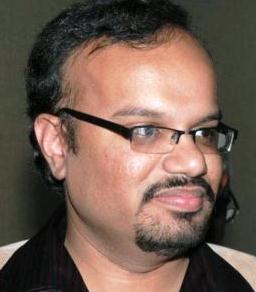 On a cloudy Sunday evening, we were at a Café Coffee day. We were certain that it will turn out to be a laugh riot before rain would pour down. We were given the bill and asked to pay, even before placing the order! The star laughed off citing this as one of many accidents that keeps happening with him. Presenting to you- a stand-up comedian, listed in top 10 comedians in India, part-time columnist, full-time tweeter @Funny_Leone, Mr. Praveen Kumar (Read Comedian Praveen Kumar Biography)
The Inspiration…
When I was in college, i.e., BITS Pilani, I used to do mimes in front of the college audience. With around 2000 people watching you, getting off-stage noises gives you a high, you know! After that, life caught up, all of us went in different directions. I kept writing blog posts which had limited readers. Then I came across an article on stand-up comedy that inspired me to take it up. It was in the cold winter month of December, 2008, when there was no platform for stand-up comedy in India. Today, I have gone up a stage around 280 times!
Closing Acts
I have very fond memories of my childhood. I went to do my class 12 in Chennai before ending up in BITS to do management studies. On completion, the course was closed! It no longer exists. I wanted to go to the US of A once I started my career. First year, I gave GRE and got admissions in 3 universities, but my VISA got rejected. Next year, I gave GMAT and again got admissions, and again my VISA got rejected! I joined a MBA course in Manipal School of Business, Bangalore and on completion, the college itself shut down !
Later on, I worked for 3 corporates, and incidentally all of them shut down! But today, I am managing three things-a day job, stand-up comedy and family! Luckily, none of it has shut down.. yet!
Comedian Career
In June 2010, we started SNAP. It is a comedy night in a particular venue called Bacchus. Till June 2012, we performed in over 150 shows until the place shutdown due to the loss it incurred! We had to look for alternate places, bigger venues and we ended up with our popular- Polished Bottoms. We are performing at various venues now and yes, we are going good!
In between, Deccan Chronicle gave me a chance to write a column with full freedom. I wrote 13 articles. It is called- Comic Relief.
Family Man
I got married in 2008. My wife has been of extraordinary support to me. She understands my weekend commitments for my passion and she sees it as a phase of life. May be, I'll have more time when I take this full time, till then I'll wait for my company to shut down!
Thankfully, my day job is not stressful or to rephrase- I have chosen a career where I am not much keen on my yearly promotions or hike. This is my secret of being able to concentrate on my passion. My family has been very supportive. Particularly when I play and talk to my 3 year old daughter- I forget all problems in my life. Hence I get stressed out on very less occasions- like when my payment for a show doesn't reach me!
Life is a Comedy
I always aim to run my shows in a way where audience will not look into their watch. I want to spread happiness. I don't borrow stuff. It'll hamper your growth. Life inspires my content. I try to make people laugh at the bad times I have seen. There is so much variety in comedy. Good that there is "Comedy Central", it is the dream of every comedian to be a part of it. We need to see the world with a funny eye!
Indians have slowly started to laugh at themselves. It's a positive sign. For instance, I am a Tamilian and when I say-"We don't wear sun glasses, we wear cooling glasses", the crowd loves it! I make sure not to raise sensitive issues like religion or politics, because I love my life!
I look old for my age. Damage was done when I was in 10th class itself. On the first day of my college, students stood up thinking that I am a professor. Research says that girls are attracted to bald man, rubbish, I never had a girlfriend!
Stand-up Saga
I prepare a lot. Perform in front of the mirror. In paper it might read dull but presenting it is a totally different cup of tea. If a story doesn't consistently do well, I try to improvise. If it fails continuously, I throw it into the trash. I try to connect with the audience first. Initially I talk about myself and try to keep it as simple as possible. That is the key for success in any show.
All the focus is on you, in a stand-up act. I still feel nervous. Butterflies or cockroaches still run in my stomach. Till the first laugh from the audience, that nervousness is there. Corporate shows are more challenging and more rewarding. It takes a good amount of effort to kill that awkward silence. For a stand-up comedian to click, the host has to warm-up the audience. That is really tough job. Audience will love it if you show instant wit. Once they start appreciating, how ever bad jokes you crack, they'll be still be with you.
Quick questions-
On Bengaluru:
3 of my careers have started here! So I am thankful!
Indian politics:
Can I tell jokes?!
Sir Ravindra Jadeja:
(Laughs). He has long way to go before he replaces Rajnikanth!
@Funny_Leone:
Sunny didn't enter Big Boss house. Big Boss entered Sunny!
To Sunny Leone:
ASL… just kidding… (Laughs)