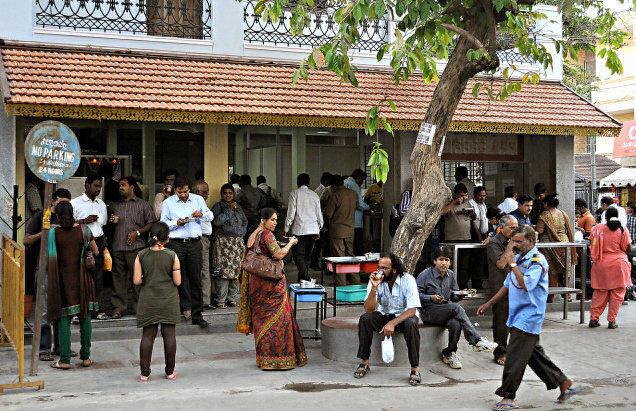 5.59 a.m., Monday! Customers had already lined up for the cash counter to open. Menu card didn't run long. But the crowd that arrived did. Yes, we were at "Brahmin's Coffee Bar", Basavangudi, the renowned eatery that started in 1965, to meet the "Hotel Industrialist", Radhakrishna Adiga.(View Biography)
Soft, hot idlis topped with benne, crisp golden vadas with spicy chutney, kharabath and its sweet counterpart, kesaribath. Downed with piping hot coffee in a tumbler.
Yes, this is our signature. This is a tradition and the taste is way up above the others. We know what people want, and serve them just that way. It was started in January 1965 by my parents, K V Nagesh Rao and Saraswati. In 1972, I was asked to take over the counter when I was 9 years old. And now, my brother's son accompanies me in handling the operations at the hotel. My mother, Saraswati, 81, still handles the quality check along with my elder brother. We are dedicated to follow the path shown by our father and to give the same friendly, homely and satisfying experience to every customer we have. That motivates me rise up early in the morning and keep working all through the day with the same enthusiasm. We still have the same coffee powder and milk suppliers. This indicates that our aim is to grow as a family, as a society. Giving back to the society is our primary motto.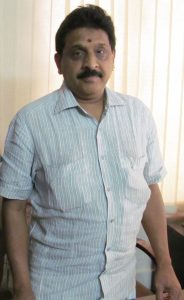 Early days
I was determined to complete my graduation, but as I had to spend all my day at the hotel, it was not possible for me to attend day classes. So I joined the evening college. Once my teacher pointed at my lack of dedication towards studies in the class. That day, I made this resolution- to work hard, to be ethical, to be disciplined and to excel in the work I do. Then I started studying late nights. It was a toil, but my goal was clear. In the final exams, I managed to answer all the questions regardless of choices, so that instructor could choose answers to valuate. Later, same teacher used to take me as an example in his class to motivate his students.
Hotel Industrialist
I want the society to respect the hotel entrepreneurs. They are no less than any other industrialists. Even we manage people, bond with customers, run business and deliver satisfaction. We here are a family of 800 employees and over 3000 dependent family members. We have them working with us over the years. It's the owner's duty to treat them well, bring in sense of belonging in them, and make them feel at home. To manage a significant part of our vegetables supplies, I got into agriculture. Now, I am proud to say that we could grow vegetables and supply them fresh daily to our customers. Recently, I have started dairy farming to support agriculture. Aim is to have maximum utility.
Ideas:Ideals:India
To run a business you don't need a management degree, what you need is the ability to hear the pulse of your customer. At this age of fickle loyalty where customers need not stick to one and where every business tries to overthrow one another; our customers have stayed with us all these years. In fact, we have grown our base, customers are family for us, we are committed to serve them better, it's like a service we are providing- a thankless effort, but we have satisfaction in it and so is the case with all our employees.
I had options to get into other businesses as well. But, I always followed my ethics and I started a high end car rental business in 1996. Till date, we are known for the ethical business that we do. And we will continue to do the same. Having that mindset is important. Knack of predicting the costing and making the business flourish only comes with experience. Those who wish to start afresh should have a great mental strength and consider the ups and downs in first 3 years as a learning curve. Develop communication skill to interact with warmth and respect to one and all.
India needs people who can guide its youth in a right direction. Education should be about imparting knowledge than a business. Media also plays a huge role in modeling the country. We should change, before we point at government. It'll take duration of time, but it's not impossible. We should carry out our philanthropic work- unannounced and unadvertised. SME, even in hotel sector should be encouraged. Let's live and let live. We can change, so can India!