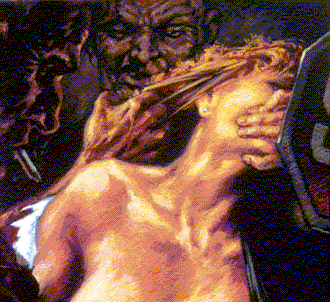 I just got out of college with a job that promised to pay me half a lakh each month. I worked hard to get that and now my parents don't want me to take up the job simply because I've been posted in the capital city and they believe it is not safe for me to live there. I fought hard at home. I tried explaining how I have a job that is going to pay me more than what 75% of my class guys were going to earn and that I absolutely love my field of study but they were not ready to listen. Tired of the argument, I went to the drawing room and switched on the tv and the news channel flashed some breaking news. The timing couldn't have been better to make it +1 on my parent's side. They won. Need I mention what the flash news was about?
Now, I am thinking, maybe my parents were right. Are they? You tell me.
Today, when I walk down a road, my greatest fear is not being robbed or kidnapped or murdered, but being exploited because of my gender. When a random guy walks past me, I am gripped with fear uncalled for, because now, every guy is a Schrodinger's rapist to me.
Answer lies here. The Dwar- Door For Transformation..

I was angry with my parents for being over-protective of me but now I have come to terms with them. I have currently taken up a job in my city that pays me half of what my on-campus recruitment offered me.  But I am forced to think, "How safe am I here, in my city? I still need to travel by public transport, find my way past the crowded roads, share my cubicle with male colleagues, attend meetings in the late evening and then hope that I get back home safe!" I have just decided to accept the reality, the reality about the "boundary surrounding my freedom."
I think I know my boundaries and I want to live within them. Boundaries are a blessing. They teach me to value and protect everything that I choose to include within the boundary.
At the same time, I need my freedom. Not the freedom to do anything I want but the freedom to enjoy what I already have.
This boundary surrounding my freedom is all I have, and this, my male fraternity, I want you to respect.
I want to believe that life is stronger than death, good is stronger than evil, faith is stronger than doubt and you are better than what I doubt you to be.
Will you help me restore my faith in you?
Let's grab a slingshot and take the giant down.

Why Don't You Join The Movement…
1. Write an article/poem related to Women & Women Empowerment and post in your blog.
2. Link back to this article of KnowYourStar.com with a hyperlink so your readers and friends can join us if they are interested.
3. Enter your name and link into the Linky widget. (It should be the post link, and not your blog link in general. In your blog, click on the post title. The URL in the address bar would be the post link.).
4. Read and enjoy as many of the other writers as well. When you read more, most of them return to read yours.
5. Don't miss this golden chance to impact the society! Let's change it for better!