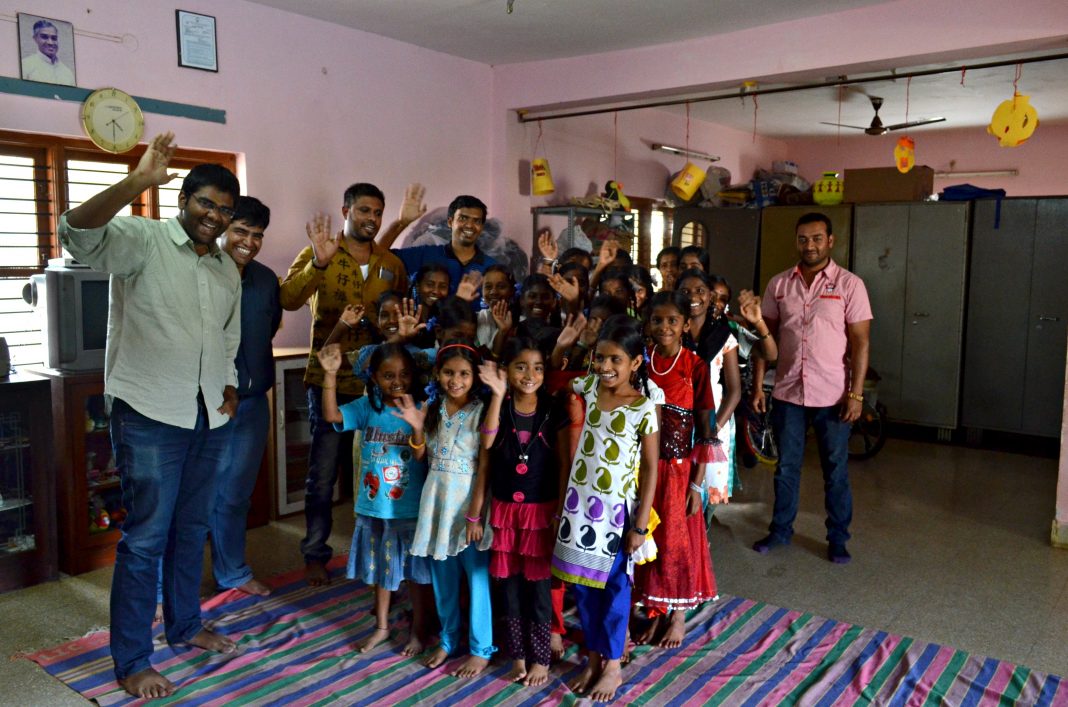 The festival of Navarathri is here, those special nine days dedicated to Goddess Durga and her valour. Our ancestors came up with this to celebrate the existence of a woman and nature. It was a way to show their respect to everything that a woman is. But who remembers the significance of this festival anymore, with most of us having moved on beyond these
values. The only significance it holds in our lives now is that we get a long weekend to relax in this fast-paced world. Let's take a step back and ponder about Navarathri in an old, but new perspective, shall we?
Just a few days back, Team KYS visited an orphanage, "Nele Nivedita". This place is home to 25 girls, aged as young as studying in Class 2, to as old as studying in Class 10. The lady-in-charge, Pramoda, welcomed us warmly, and introduced us to all the girls. We began interacting with them, and we were thrilled to see the excitement they had in meeting people who had come to meet them! Out of the 25, was Bhumika, an adorable Class 2 kid, who stole the show. When everyone was asked what they wanted to be after growing up, her answer was that she wanted to become a drawing teacher and paint a new world! We had no words, but a melting heart.
The kids here were enrolled at a school near-by. When inquired earlier, we figured these girls were in a dire need of backpacks. After spending a couple of days thinking about what we can do to help them out, Team KYS decided to put Facebook to better use. We posted a request on "Put Me In Touch" for people willing to donate bags, and within half-an-hour, Power Steel Corporation got in touch with us! They promised to help us help
the kids by offering brand new-looking laptop bags to the kids. We were overwhelmed with the response.
So here we were, at "Nele Nivedita", accompanied by the founding partners of Power Steel Corporation – Farhan Khan, Mohd Rafi, and Syed Zabi. The bags were received with joyful hands and hopeful eyes. The girls were overjoyed! They could now go to school with ease, and little things like these definitely matter to the little ones to study better, than anything else. The rest of the time was spent talking and motivating the girls to reach their best potential, apart from clicking a lot of pictures of course!
At the end of the day, when we bid farewell to the bunch of chirpy girls, we realized something. Navarathri is not about worshiping big idols in big pandals. What's the use of worshiping, while ill-treating the living ones? It's not "just" about wooing someone on Dandiya night or planning a big fat vacation, neither is it about the notes we put into the donation boxes. It's "also" about using our resources, our will power, our decisions rightly to help innocent young girls like these. It's about bringing some smiles on the faces of these girls, who unfortunately were subjected to a life that no God or Goddess would have destined for them.
So why not live up to the real meaning of the rich culture that our forefathers have left behind for us? This Navarathri, let's not only celebrate with Goddess Durga, but also help and respect the woman race for Goddess Durga. The choicest of Her blessings will definitely be in order! Let's celebrate womanhood.