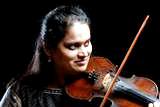 This was the first time we didn't travel, instead logged in and waited for the star  on Skype. We were experimenting- more anxious on how it'll turn out. And the experience was worth experimenting and delight was way beyond words. Presenting to you, our first interview overseas in London, of a star who has introduced a new dimension to Carnatic music and a whole new persona in global music fusion, a SCJP(Sun Certified Java Programmer), a pathologist(holds MBBS and Post-Graduate degrees in Clinical Pathology), leading violinist, lady with vibrant personality and smile, Mrs. Jyotsna Srikanth. [Read  Jyotsna Srikanth Biography]
Crowning 3 M's (Mother, Music & Medicine)
I have taken a break from medicine  for the last 3 years as I have to keep travelling for music to countries and after delivering my second child, parenting was equally important for me. I have been very adventurous in my career.For instance,  I have done JAVA Sun certification and have worked as a health care IT consultant. I was always passionate about music. My husband, Mr. Srikanth Sharma encouraged me to take music as my full-time career. So for the  last 3 years, I have been crowning 2 M's, being a diligent mother and following my passion, music.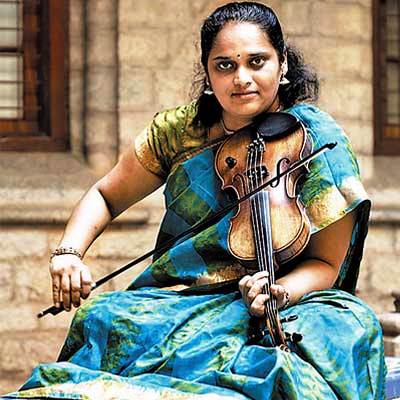 Vista of the Western Classical & Carnatic Classical Fusion
As a violinist, the techniques of violin have to be explored, for example the bowing and fingering technique of the western music. In Carnatic music, the use of little finger is very limited but using the same finger in western classical music gives you tremendous speed and notes which are  hard to imagine. Western classical music complements Carnatic music and it appealed to me more when I heard Ilaiyaraaja  using the same violin for different pitches. Back then, I had realized that my competency was  only 30-40 % when V.S. Narasimhan, solo violinist to Ilaiyaraaja explained to me the different vistas of violin. I joined Bangalore School of music, learnt till grade 5 and undertook exams from Royal College of music, London. For further trainings I approached V.S. Narasimhan himself. Later, I got a fellowship from Trinity College of music, London.­­
Mystery behind the 7-string violin
I have played 4, 5 and 7 string violin but playing on 7 strings does not appeal to me much as it does not suit the modern world or traditional Carnatic playing. The reason why my guru R. R. Keshavamurthy chose 7 strings was because of lack of amplification at that time; their concept of using 7 strings was different compared to the western 7 strings. The western 7 strings covers 3 octaves but here there are 2 of "pa" Strings, one top and one base and similarly two "Sa" strings to get volume without mikes. Also, to combat the audiences' cheering and echoes, they used this technique of having 2 strings for each note to double the volume.
Embracing Stardom:
Back in India, all the reality shows over project the children and the stardom affects the real quality output. I want my kids to have normal childhood. Although my kids are free to choose their own instruments, they have affinity for violin as they keep seeing it all the time. I will push them only after they settle down in the field of education.
Driving Force for JAVA certification!
When I got married, I was doing my MD in Pathology in Bangalore Medical College and my husband was working with TCS. I had very little knowledge about computers and my husband took this onerous task of making me a computer savvy person. He started with basics and slowly the subject started gripping my interest. I sought computers as a break from my MD, something to look apart from the cancer slides. I learnt programming in the process and discovered my hidden talent with coding. It was then I wanted to be Sun certified in JAVA and enrolled for it.
Concerts and Movies                                                                                                
At present, I am concentrating more on concerts. In another 2 years I would like to go for composing music for movies. I too have offers lined up now but I am declining them because of big projects coming up in London. One of them is my organization Dhruv Arts and also I am curating the London International Arts festival. My effort would be to project Carnatic music on top in the international festival through LIA. Carnatic music is less known in the international market compared to the exposure tabla and sitar have received. People will listen to Carnatic music in this world music act and it would be a big venture. As a violinist I am crazy about orchestral work. Once I am through all this and take music to next level, I would be concentrating on movies.
Back in home land
I tried to host another wing of Dhruv Arts in India but could not get the support as I got from the Arts Council, England here. I recently did a Fusion show at counter culture in Whitefield, Bangalore and it was very well received. People in India have more liking towards fusion and Bollywood music compared to hard-core Carnatic music. Currently I don't have plans of coming back to India mostly due to my kids' education as switching between countries would affect their education.
My Memorable Childhood Experience…
When I was 5, my mother took me to Kunnakudi Vaidanathan's concert; I was thrilled with the violin so much that I imitated the violin with 2 broomsticks back at home. Seeing my interest, my mother enrolled me for violin classes. At the age of 9, I went for my first concert at Rajajinagar, Bangalore for the occasion Ramanavami. It was a junior concert from 6-7 pm and from 7 it was Kunnakudi's concert. I was extremely thrilled. Due to some reason Kunnakudi was late for the concert so I had to continue for some more time till it was 8.30. I was over with my stock of music as I had prepared for just one hour but they asked me to replay to fill in the time. So my first concert lasted from 6 to 9.30pm even though I had a time slot from 6 to 7. Later I went to play for the Prime Minister and David Cameron but my first concert was really thrilling…