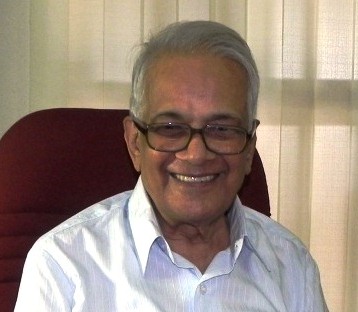 "14th August 1947, I was at the Secretariat, waiting for one of the best & the biggest affair that happened to India. Yes, it was time to get the English flag lowered on one pole and get the Indian Tri-Color flag hoisted at midnight", says the only journalist among us today, who has covered the glorious moment of India's tryst with destiny when the British flag was lowered to make way for the Indian tri-color on that beautiful day when India got independence and also fortunate to extensively cover the trial of Nathuram Godse and the historic adoption of Indian Constitution. Yes, meet the living legend, renowned Journalist, acclaimed editor, who has been correspondent and editor with prestigious PTI, TOI and Illustrated weekly, author of over 50 books, columnist for over 10 newspapers, former chairman of Prasar Bharti, Padma Bhushan, Dr. M V Kamath(View Biography), young at 91!
Early Days
I nurtured the dream of becoming a doctor. Aim was to serve the society, open up health centers for the underprivileged in villages. I think this thought was highly inspired
by the freedom struggle mindset that existed during the pre-independence. After my studies, I had to move to Mumbai (then Bombay). Although I had good marks, I was asked to pay Rs.3000 for the transfer of university across the provinces, which was unbearable with my limited means. Hence, I pursued and graduated with Bachelor of Science degree. I found a job as a chemist and started earning promotions due to my excellent skill sets in the labs. After 4 years, journalism drove me to resign and I started looking for writing jobs. Luckily, after 4 months of wait, Free Press editor, Sadanand took me in, and as I didn't have a writing background, I was put on probationary. I did a convincing job and at the end of 3 years, I was sent to Delhi as a correspondent.
Editorials
I fondly remember my first editorial. I was very young and used to stuff a lot of Shakespeare and Milton quotes in my articles. Once, the editor, he tore it apart, asked me to write for the common man, who probably did not know who Shakespeare or Milton were and write from my heart. That was the moment, which transformed me. I started learning niches of editorials and journalism. Luckily, as an editor, I have not betrayed my readers and till date, no one has approached me asking for sponsored articles or tried to bribe me. I have let my heart speak and that's the reason I attribute my success as an editor.
Tryst with Destiny
Greatest day of my life. 9.30 pm, 14th August, 1947, Bombay Secretariat. I think there were 4 correspondents, 20 reporters from all over India to write about the greatest event. There were thousands of brave freedom strugglers, thousands of patriots, eminent personas like J R D Tata in the back rows, with freedom fighters being given the prominance, vande matharams, National Anthem, patriotic songs and the clock was ticking, 10 pm, 10.30 pm, 11 pm, 11.15 pm, 11.30 pm, 11.45 pm, 11.59 pm, million hearts popping out with joy, trying to behold the uncontrollable tears, Tiranga going up, that was the moment I was blessed for.
[We could see the patriotic zeal in Dr. Kamath when he narrated this. We were trying to control our tears of happiness!]
Rubbing Shoulders
I am thankful to my profession that gave me a chance to rub shoulders with the high, the mighty, the powerful, the rich, the bold and the beautiful. I had met Jawaharlal Nehru and later, went on to host Mrs. Indira Gandhi as well. Personally, I cherish my friendships with Homi Bhabha, G D Birla, Nawab Ali Yavar Jung and Sir Mohammad Hidayatullah. I had made great friends through my writings, prominent people like Morarji Bhai (Morarji Desai) , the Maharastra Governor, Judges of the High Court & the Supreme Court, people from the Indian National Congress & the Government Bureaucrats. All of them knew me for my honesty & truthfulness and that is something that takes care of everything else.
Ideas:Ideals:India
To be an acclaimed person in the field of media, one has to gain knowledge. It's a process of continuous learning.  I used to read 12 prominent news papers, mark them, clip them and store it in the box. I had 420 such kind of boxes, labeled and sorted according to the topic. This is the secret of my knowledge since my days as a correspondent at United Nations. Today, in the world of modern search engines, I still read 5 news papers and clip them for further reference.
My day starts with "Vande Mataram" played on All India Radio. I enjoy my work and I don't regret for not being a doctor. I have cherished every moment in this profession and continue to do so. Be honest, be truthful, following "Dharma" or truthful way might be like walking on knife edges, but it leads you to real glory. Make plans and try to execute. But always cherish and obey the God's decisions. Swami Vivekananda's message always inspire me-"Arise, awake and Stop not till the Goal is Reached".
My editor at Free Press was a very patriotic man. Immediately after the independence he summoned young correspondents including me and conveyed his concern on India's future. We promised him that we will stand by and commit on the development by being critical to government initiatives. I agree that there are a lot of problems in the society. But the scenario is changing. In the last 60 years India has witnessed fantastic changes in various sectors. We have the talent and the energy to be the No.1 country in the world. We are great and will be greater in the coming years.