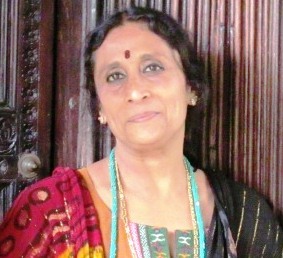 We arrived at 1pm and we could feel the rhythms of Kuchipudi all in the air. The locality of Shambavi school of Dance looked so serene that we spent our first 10 minutes checking out the impressive flora and fauna of the place. Midst of this arrived our star with a charismatic vibrancy and multidimensional persona, highly regarded guru and choreographer, celebrated performer, Mrs. Vyjayanthi Kashi.(View Biography)
Dancer, Therapist, Choreographer, Chairperson, Mother, Wife, Teacher. Which one these roles do you cherish the most?
It is definitely being a Mother. The role of a mother is that of a creator. Being a creator myself allows me to create a creator within. Creator inside me is the primary inspiration behind my dance and work. This creativity blossoms in all the festivals that I organize and the projects that I take up.
Early Life
I was a very insecure girl who was initially into Bharatanatyam. It was more of a force than a choice. Although I performed at the age of 13 in front of then Governor, I didn't enjoy the art and took up the theatre just to avoid Bharatanatyam. Here, I first met my life partner Vijay Kashi, an acclaimed theatre artist whose traditional values impressed me.
Defining Period
It was at the age of 23 when I first heard the story of Mahabharatha..!! My city upbringing never gave me this opportunity. My husband being a theatre person had a busy professional life and this pushed me into loneliness. The pain in my loneliness inspired me to take up Kuchipudi, an art which was an unknown entity in my terrain. My theatre and Bharatanatyam background complimented for the style of kuchipudi . Everything was unplanned but I was enjoying every phase. In this journey, I was luckily guided by my revered gurus whose blessings are the guiding force behind what I'm today.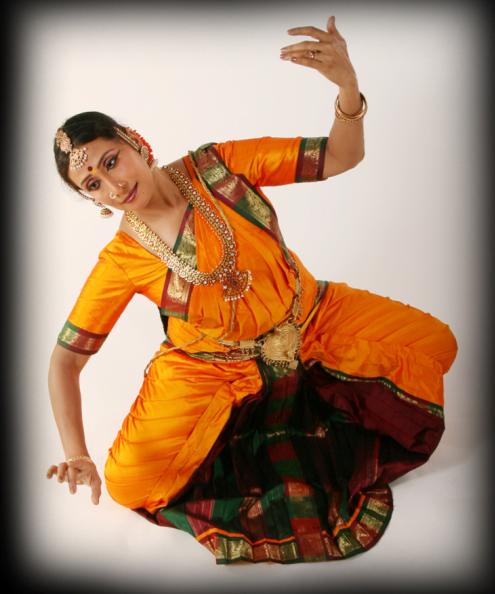 Art of Healing
Well being of a man is defined by four different states: Physical, Emotional, Psychological and Spiritual. Dance is an art that removes disturbances in the first three states and helps you to connect spiritually to attain self affirmation. When you dance, it burns out your toxins and not your energy. I've seen positive results in cases of the people who had come to me with the need of this therapy. For instance, one of my students in Germany used to hate herself as she was physically abused. As a part of the therapy, at the end of twelve sessions, she was able to get over her bad dreams. I'm always a believer of the saying "Art can save people".
Ideas: Ideals: India
Sun, Moon and Stars are my ornaments. Most of my ideas come from my close to heart affair with the nature. Ideas are in the soil. We need plough and cultivate them. Look around, I guarantee that every element you see will be unique, artistic and testimony to His wonderful creation. Feel the solitude and find the inner peace.
We need to empower the youth. Country's hopes and future completely lie in these young shoulders. They need to find their true talent and channelize their energy for the goals. First of all, let the children to choose. Don't force anything on them. Allow them to try and fail, self experience is the best experience. As they mature they'll be more civilized. It's more important to be civilized than to be modernized. Provide them with independence, independence with values at an understandable limit.
I believe in what I do. That's very important. I advice the youth to take up meditation; it'll help you know yourself better and calm your mind to allow the creative juice spur in you. It'll help you find your passion that you believe in. And from my personal experience, you can figure out your passion when you are down. Insurgence within will lead you find your true passion and inspire you to work towards it. This will help you in giving back something to the society. Making a bit of contribution should be our aim. It's very well said- The more you give, the more you get.