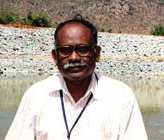 When so many states in India are grimly affected by water scarcity this year, 18 villages including Maranbasari, Nagaral and Neeralagi of Gadag district in Karnataka are celebrating the festival of water abundance! The reason being a project undertaken in the year 2008 –09 by an organization called the Water Literacy Foundation, led by their visionary Founder, an Ashoka fellow, a recipient of the prestigious Jamnalal Bajaj National Award for Application of Science and Technology for Rural Development, a constructor of over 600 artificial lakes, the Water Warrior, the brightest Star of our Summer skies, Mr. Ayyappa Masagi.
Let the results speak first…
Earlier there was hardly any water available at the depths of 300 – 400 ft. But after our intervention, large volumes of water were found in bore wells at a mere depth of 50 – 70 ft. And the fact to be happy about is that the available water is potable, soft and absolutely free from fluoride. Today we have improvised, developed  and offered techniques like Roof Rain Water Harvesting,  Borewell/openwell recharging, Lake construction and replenishment, Grey water harvesting and our path breaking technique – Stream water harvesting. I have conducted over 2000 awareness rallies, trainings, workshops and over 2000 bore well recharging. Moreover, I have been blessed to have been involved over 90000 community programs- both in rural and urban places. My enthusiasm will never dry, until we make a water-abundant-India by 2020 and probably even after!
Grey water harvesting
Time has come to educate everyone that water is the elixir of life and potable/fresh water percentage is going down alarmingly. If we follow the same trend of 'Only use and no recharge', then our posterity would be left with only sea/ocean/contaminated water. Already the sea level has increased by about 7.4 inches within the 20th and the 21st century.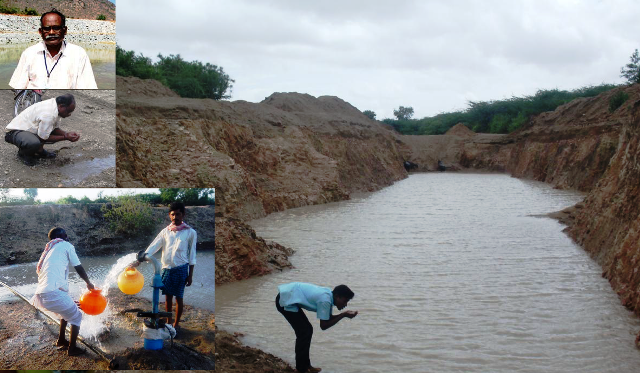 Grey water is nothing but the water that comes out of our bathroom and kitchen, except the sewage. This practice is more effective than rain water harvesting. If every house adopts grey water harvesting along with rain water harvesting, I can assure you  that water scarcity can be ended. Also our water bodies can
be saved from contamination as most of the grey water is let into them. Interesting fact is that the soil below our feet is a natural filter; the soap chemicals will be filtered out and act as a natural manure for the plants around, thus letting off only pure water to charge the underground water.
Stream water harvesting
We have spent large sums of money on building external dams, evacuating villagers and rehabilitating them. But these dams we see today, dry up in summer when water is most needed. Unlike surface check dams, stream water harvesting is done underground, to harvest the hidden stream which flows below the stream bed. I can easily point at these advantages–>
If ten such systems are created along a stream for 500mts, water will be available for all the twelve months of a year downstream.
The drinking and agricultural water needs of nearly 10 villages can be addressed.
In this system no land is snatched for creating a reservoir, a one-time installation and zero evaporation.
Know Your Star
I was born and brought up in Gadag- a drought prone area in North Karnataka. I think I had realized the importance of water at an early age of 4, while helping my mother to fetch water from the water bed at 3 in the morning on hot summers. Such was the scarcity there. I have 4 siblings. As I had little support for my education, I spent most of my childhood at my teacher's home. They constantly advised my family and convinced them to  help me pursue  my education. I am very thankful to my teachers.
I took up commerce in high school. Applied for ITI- Electrician post, but ended up being a Fitter since I had made a mistake in my entrance paper while entering the current credentials. Although I had scored 97 out of 100, my paper was rejected for the Electrician training and I had to train as a Fitter. Then I had taken a pledge to work for my nation from the day I would be able to support myself and my family.
I started my career at BEML, Bangalore with a salary of 900Rs. Later on, in 1981, I joined L & T. In 1983, I married Sharada Devi. In 2002, I quit L & T as a project manager with a salary of 55000Rs. I didn't tell my wife about my decision to quit, since I had 3 unmarried young daughters and a small son. Then I had decided- "Live  for water or Die for water". I had a vision. I joined an NGO-Rural development in Bagalkot for a mere 5000Rs. That's my journey from  55000 to 5000!
Water Literacy Foundation (WLF)
My parents are agriculturists. I have learnt a lot of from my father, who is 103 years old today. My techniques are mainly based on his experiments. Though he is an illiterate, he is a temple of learning for me on topics like organic farming and water conservation. My ideas are born out of my various experiments considering community, feasibility and the impact it has on the society.
I started WLF on September 5th, 2005, funded mostly by Deshpande foundation and my fellowship with Ashoka. I have authored 4 books and I have a team of 20 supporting me. Today, depending on the water availability in the residential area and depending on the budget, I can design solutions in such a way that the residential community doesn't face any water problem after that!
~~~
In Bangalore, 382 lakes were constructed by Kempegowda. Today only 17 of them survive. A popular song "Kereya Neerannu kerege chelli…" (Pour back into the river, the water you took from it!) makes true sense today. We were about to leave, then we met an intern from Netherlands who had come all the way just to train under Mr. Masagi. We asked her for her thoughts–
"No water, No life. It's a privilege to work under the guidance of a man with such brilliant innovative ideas. His commitment to the society is incredible. It's so disheartening to see very few steps taken in this regard so far, especially when we have such a huge problem to solve. It's everyone's business, not just mine or your's. I hope more people realize the emergency of this situation, get inspired and join hands to form the circle of life. To protect, to nurture, to flow!"
Let's start forming this circle, let's own this concern like we own our country, let's change for BETTER. Please sign this petition for betterment of our FUTURE!